Mechanical Engineering Brisbane
We are veteran mechanical engineers who design, engineer, and fabricate mechanical systems. Tell us your problem or idea, and we'll work through a comprehensive process to solve it, including engineering, fabricating, and installing the necessary components.
Our expertise allows us to tackle the trickiest of mechanical engineering jobs, using out-of-the-box thinking to engineer custom solutions. We can tackle almost any industrial or commercial fabrication work, by designing and creating working concepts, and turning them into functional, high-quality solutions that will last. We also repair mechanical systems, if needed.
We understand the importance and cost of getting things right first time, which is why we use state-of-the-art equipment and an exhaustive engineering process.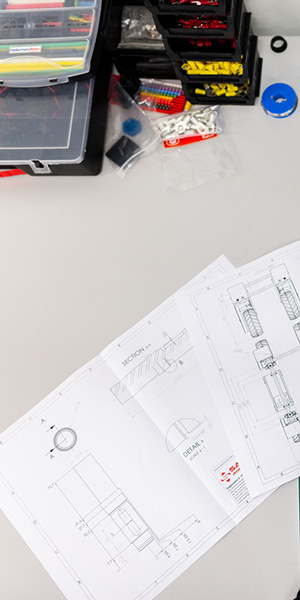 Our mechanical engineering team have decades of experience
End-to-end engineering solutions, from consult to installation
Able to offer a broad range of design solutions, across any industry
Our workmanship is impeccable, and we stand by everything that we produce
We offer highly competitive pricing
We can provide a cost-effective, fast solution for your mechanical engineering needs
Our Mechanical Engineering Process
Consultation—We'll give you a call or visit to thoroughly understand the problem you're trying to solve, before suggesting possible solutions. In most cases, we recommend solutions within a day.
Design—We either design a solution, or follow your architectural plans. Once confirmed, we use 3D modeling software to design working concepts, and select the ideal materials and hardware for your application. If we're producing a large number of the same item, we highly recommend building a prototype.
Review—Once any designs and prototypes are complete, we'll ask you to review our work, and if required, request adjustments. This can be completed by the architecture, engineer, home or business owner, or anyone else involved in the project. It's an essential part of the process.
Approval—When you're happy with the design, we can move onto the build stage.
Build—We'll fabricate the approved solution.
Installation—We'll install the work for you, and test to make sure that it's working as expected.
Handover—We'll complete a final handover for you, including a detailed explanation of how the solution works.
---
Mechanical engineering—expert guide
What is mechanical engineering?
Mechanical engineering is the design of mechanical systems, using physics, mathematics, and manufacturing techniques. It's the branch of engineering that includes the design, production, and operation of machinery.
Mechanical engineering requires advanced knowledge of mechanics, dynamics, thermodynamics, materials science, structural analysis, electricity, 3D (CAD) modelling, and more.
FAQs
Mechanical engineering work tends to be varied and unique—every job is different, so we'll provide a competitive quote once we understand the requirements of the project.
When can you complete my mechanical engineering job?
We'll complete your welding job as quickly as possible, providing a strict time frame as part of the quote.
Everyone in our team is a fully qualified and accredited engineer.
How do I know your engineering solution is safe?
Our third-party engineers work through a strict mathematical process to confirm the safety of an engineering solution, including the completion of finite element analysis (FEA), which tests vital areas such as load-bearing, heat transfer, fluid flow, electromagnetic potential, and more.
Do you install what you create?
We complete the entire job from you, including design and engineering, fabrication, and installation. All we need from you is a thorough understanding of what you're trying to achieve.