Expert welding Brisbane
We've spent a quarter of a century completing high-quality welding work, from the smallest private jobs to the largest industrial systems. Tell us your problem or idea, and we'll provide a strong, safe, and effective solution.
Our welders are qualified, certified, and work to nationally-recognised welding codes and standards.
The safety of our work is critical
We adhere to the following codes and standards:
AS 1554.4, AS 1554.5, AS 1554.6
ASME IX: Welding and Brazing qualifications
AS 1665 Welding of aluminium structures
AS1210: Pressure vessels
AS/NZS 2885.2:2020 Pipelines-Gas and liquid petroleum welding
AS/NZS: 5731:2016 Structural steel work fabrication and erection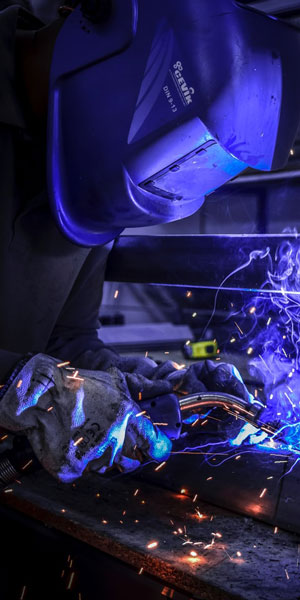 Highly qualified welders who will get the job done quickly and efficiently
25 years of experience providing high-quality welding
Able to offer a broad range of welding solutions, across any industry
Easy and straightforward to work with. We'll get your job done with minimal fuss
Our workmanship is impeccable, and we stand by everything that we produce
End-to-end welding solutions, from consult to installation
What kind of welding work do we do?
Industrial
We complete welding work for various industrial processes. Typical industrial jobs include:
Structural
OTR rims
Transport repair
Pipe welding
Aluminium welding
Welding fabrication
Stainless steel
Machinery and Equipment
Commercial
If you're involved in a commercial business and need something welded, we can help. Common commercial jobs include:
Structural
OTR rims
Transport repair
Aluminium welding
Welding fabrication
Stainless steel
Machinery and Equipment
Private
We'll be happy to take a look at your project and determine whether we can help. Typical private jobs include:
Structural
Boat repair and modification
Aluminium
Stainless Steel
---
Get In Touch
We can provide a cost-effective, fast solution for your welding needs.
What's your process for completing welding work?
Consultation—we'll have a chat with you about the problem you're trying to solve, to determine the best solution.
Design—if design is required, we'll usually complete this with you onsite on a whiteboard.
Review—once we've come up with a solution, we'll ask you to review, and if required, request adjustments. This is an essential part of the process.
Approval—we'll get your approval for the final build.
Build—we'll complete the welding based on the approved solution.
Welding: what you need to know
What is welding?
Welding is the process of fusing two parts together, using heat, pressure, and extra material (depending on the type of welding). Most common materials for welding include: steel, stainless steel, aluminium, nickel, copper, titanium, and cast iron.
What are the types of welding?
There's a range of different welding types, each suited to different jobs. Three of the most common include.
MIG welding (gas metal arc welding)
MIG welding works by forming an electric arc between a continuous wire electrode with the use of shielding gas to protect the molten metal from impurities. Variations of the shielding process are achieved with the use of flux cored wires that produce a gas shield in the same way as MMAW or stick welding.  An increasingly popular option for the armature enthusiast as cost of set up has become more affordable for the DIY market.
Stick welding (manual metal arc welding)
Stick welding uses a consumable electrode covered with a flux to achieve the weld. This method is still popular in industry due to its portability. Increasingly less popular with armature enthusiasts due to a fair degree of skill required to produce quality welds.
TIG welding (gas tungsten arc welding)
TIG welding uses a non consumed tungsten electrode with filler wire added to achieve the weld. Similarly to MIG welding TIG requires separate shielding gas. It can be difficult to learn, and requires handed operation to complete when done manually.
What metals can be welded?
The most common metals welded include:
Steel and stainless steel
Aluminium
Titanium
Cast iron
Copper and brass
Magnesium
Nickel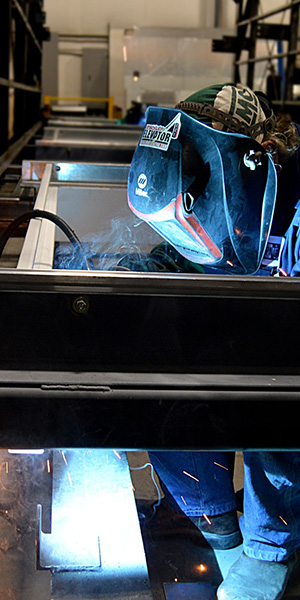 FAQs
How do I know whether you can complete my job?
We start at the beginning for every single job, by trying to thoroughly understand the problem that you want to solve. When we have this information, we can provide a long-lasting, economical solution for you, rather than a band-aid solution that will often lead to more issues. We'll be able to determine whether we can complete your job after our initial phone consultation.
When can you complete my welding job?
We'll complete your welding job as quickly as possible, providing a strict time frame as part of the quote.
Do you work with aluminium and stainless steel?
Yes, we regularly weld Aluminium and Stainless steel.
Do you offer on site welding in Brisbane?
Yes, we can complete welding on site for you.
Yes, we can help to repair your boat or boat trailer.